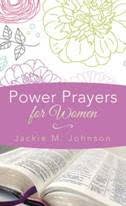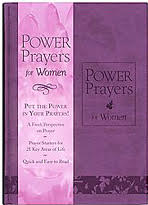 Also Available in Portuguese.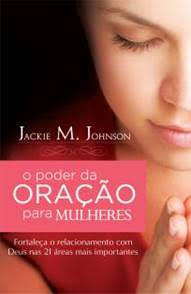 Revitalize your prayer life. Transform your whole life.
Practical help and POWERFUL prayers

for 21 key areas of a woman's life.
Power Prayers for Women
by Jackie M. Johnson
Prayer is powerful, but many people struggle to pray. Power Prayers for Women offers inspiring content and short, starter prayers for 21 areas of a woman's life—like praying for your health, your finances, your family, your emotions, your dreams and goal, your job, your church, your nation and more. Each prayer is derived from Scripture, so you'll be "praying the Word," the most powerful way to pray!
Discover the power of prayer in this compact, easy-to-read book and find strength for each new day!
BUY THE BOOK
QUOTES FROM THE BOOK
"Most of us want more loving relationships, more joy, more confidence and more energy to live our best lives. We want our kids to be safe and make wise decisions. We want to be rid of our bad habits. We want to change—but we often lack the self discipline or motivation to make change happen. That's why prayer is so important. Prayer connects us to the One who has the power to make lasting changes in our lives." 
~ Jackie M. Johnson, Power Prayers for Women
"In the midst of a frenzied life, we can find a refuge—a sanctuary of inner stillness—in drawing near to God. Powerful prayers for peace rise as we spend time in His presence, enjoying and resting in His capable strength. Just as the moon takes its light and power from the sun, we can bask in the glow of God's Son and absorb His truth. Then we'll be women who reflect His joy and light the dark corners of the world around us."
~ Jackie M. Johnson, Power Prayers for Women
SAMPLE PRAYERS
All Things Work Together for Good
And we know that in all things God works for the good of those who love him, who have been called according to his purpose. ~ Romans 8:28
Lord, sometimes it's hard to understand why things had to happen the way they did. I have made some poor choices, but other people have done some really hurtful things to me, too. Even though I may never completely understand, I trust that You work things out for the good, for Your own glory. I love You, Lord, and I know I have been called according to Your purpose. I will put my faith in You.
Manage Time and Priorities
There is a time for everything, and a season for every activity under heaven. ~ Ecclesiastes 3:1
Lord, help me to order my days so my priorities reflect Yours—so that I spend my time and energy as You would want me to. Amid the activity bombarding my life, center me on You. Teach me Christ-centered living so that wise choices will follow. I ask that You would give me time to get done what You want accomplished each day. Sustain me with Your motivation, inspiration, and enthusiasm for this season of my life.
TESTIMONIALS
"Love it! I couldn't put it down."
~ Berta
"Great book. I read it daily—it keeps me moving."
~ Latoya
"This is the best prayer book ever. Easy to read, practical and just plain awesome! I've bought about 20 of these books and handed them out to friends and family."
~ Cristy Jo
"My wife was going through an emotionally and spiritually draining period in her life…This book helped her strengthen her faith and her confidence."
~ Z.O.E

"I am so inspired by these prayers…always a refreshing start to my day."
~ Virginia
Other Resources by Jackie M. Johnson